Guide
Google Analytics Usage Guide
Google Analytics Usage Guide. If you want to understand what Google Analytics is and how you can use all the data to your advantage to improve your digital marketing efforts, this comprehensive guide will help you do everything.
If you can't measure, you can't improve. This is exactly the case with SEO . Without data, you cannot ensure your SEO strategy is effective. You need to monitor performance and progress. This is the most important criterion for marketers.
What is Google Analytics? and How Does It Help SEO?
Google Analytics helps you access vast amounts of data about how users find and interact with your site. For example, you can find out how many people visited a particular page and how long they spent on the page. You can learn from which channel the users came to your site, their behavior, geographical status, operating system and model information of the devices they use. Google Analytics is not limited to these, it offers more.
Analytics can be integrated into your site via code. If you are using WordPress, you can add it using Site Kit, All in One SEO Pack, Yoast SEO and similar plugins. Analytics data will help you advance your SEO efforts.
Google Analytics Usage Guide
Google Analytics Usage Guide: Real time
This report provides real-time data on who is on your site and what they are doing. Have you posted a piece of content and wondering how many people have read it?
You can find out with the real-time report of Google Analytics. Click the "Real Time" option in the left sidebar of the Google Analytics dashboard to instantly access the data.
In most cases, the real-time report shows the actions that took place on your site in the last five minutes. Several real-time reports allow you to view data over the last 30 minutes. Let's take a look at the different real time reports.
Google Analytics Usage Guide: Location
Do they live in a different time zone? Do they even speak a different language than you? In this report you can see where your current users are, which page they have been on, and how long they have been there.
Google Analytics Usage Guide: Traffic Sources
Traffic sources show you how users found your site. Did they click a link on Facebook? Did they visit by typing your URL directly?
If you want to see how much traffic a new social post is generating or how a brand new landing page is performing, this section can be extremely useful in real time.
Google Analytics Usage Guide: Content
This section contains data on where users visit the site and how long they spend there. You can see the page title, URL and percentage of active users on a particular page.
Google Analytics Usage Guide: Events
Activities in real time allow you to track customizable interactions users have with your site. This could include ad clicks, whitepaper downloading, or video views.
You can view the data in a more customizable way by viewing the "Events (last 30 minutes)" section to see activities for the last half hour. You can select an event category to view activities specific to that category.
Google Analytics Usage Guide: Conversions
For every strategy you implement, there will be only one detail that wants to be known. Did it increase conversions? Or did not increase it? This report will give you this data in real time.
You have a chance to view the most important goals, how many users have completed that goal, and the percentage of users who have completed that goal. You can review all data in real time. Alternatively, you can browse through the data for the last 30 minutes.
Google Analytics Usage Guide: Mass
Audience reports group users according to predefined parameters. If you want to know how many people are doing a site search, this is the report you should look at. You can find this and other similar information here.
You can use this information to better target specific parts of your target audience. There are two important features to keep in mind. You need to define the audiences you want to watch.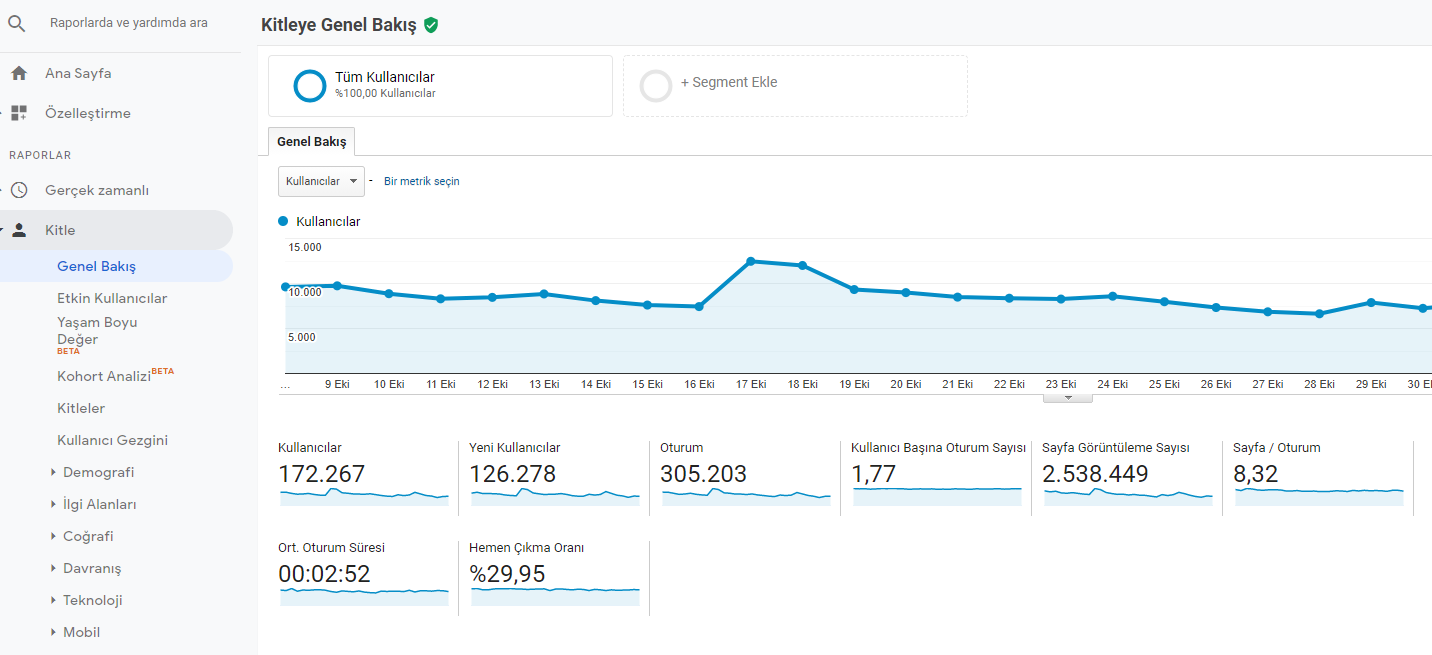 Google Analytics Usage Guide: Active Users
This section of the Audience report allows you to track users who have visited your site in the last 1, 7, 14, or 30 days. This information helps you measure the interest of your target audience.
For example, if you have a large number of 1-day active users and you see low in others, this could mean that you are having a problem connecting with your target audience.
Google Analytics Usage Guide: Lifetime Value
You may be wondering if potential customers you get through an email campaign are valuable. On the other hand, you may be trying to decide if it's worth spending more resources on social media.
The Lifetime Value report calculates the long-term value of users acquired through a variety of methods, including social, direct, organic, and referrals. You can then sort each acquisition audience and see values ​​such as average goal completions, page views.
Google Analytics Usage Guide: Cohort Analysis
For example, if you want to examine data for a group of users connected with a shared feature, such as users acquired on a particular day, cohort analysis is the point to take a look. This report will allow you to analyze a variety of data.
For example, you can define a cohort value as the day you start a new course. You can then view data about the users who responded to your launch.
Where they live, what devices they use, whether they make purchases, etc. You can examine the data. These are all situations that require cohort analysis to be done correctly and included in SEO work.
Google Analytics Usage Guide: The masses
It may seem strange to have an audience report in an audience report, but the purpose of this section is completely different. First of all, it is important to distinguish this.
This section allows you to build more detailed audiences and apply them to other parts of your analysis report. You can create and apply up to 20 audiences at a time.
Google Analytics Usage Guide: User Explorer
This report allows you to analyze the behavior of specific users instead of giving a broad overview of user behavior as you would for cohort analysis.
So how can you use this data? For example, if you want to understand how users in Ankara react to a recent initiative, aggregated data is very important.
User-specific data will give you insight into situations that caused a particular user to make a purchase, or what actions a user took before leaving the shopping cart.
Keep in mind that with User Explorer reports, you will have a chance to view data such as average session duration, bounce rate, revenue, and goal conversion rate for each user.
Google Analytics Usage Guide: Demography
This section allows you to view detailed information about the age and gender of your users. For example, you can see the average session length of women aged 25-34 over a given period.
You can use this information to better tailor content, ads, and other marketing efforts. You can also create marketing audiences or new segments based on these categories.
Google Analytics Usage Guide: Areas of interest
Want to target tech-savvy users? Want to target someone who loves Mediterranean food? The relevant section of Google Analytics makes this possible. To get started, you need to enable remarketing and advertising reporting features.
After activating the relevant reporting formats, you will have the opportunity to view users' data such as:
Affinity categories – You will have the chance to see broad lifestyle categories such as "Food & Food Enthusiasts" or "Valuable Shoppers".
In-market segments – You can see areas related to products such as "Travel / Hotel Accommodations" or "Baby and Kids Products".
Other categories – You can access more specific categories like "Hair Care" or "Pets / Dogs".
All of this information may not seem valuable at first. However, if you want to create remarketing campaigns, you need to know that all of them are very valuable.
Google Analytics Usage Guide: Geographical
The geographic report provides information about where your users live and the language they use. You can use this information to better evaluate new initiatives or to search for new opportunities.
Google Analytics Usage Guide: Behaviour
This report can help you determine whether new users are returning to your site to interact with your content. It has three subcategories and each of these categories is very important.
New – Returning
Frequency and Innovation
Participation
For example, you can use this data to determine whether a new buyer buying guide is helping users move through the purchasing cycle.
Google Analytics Usage Guide: technology
This report is important for you to know which browser and operating system users are using. With this report, you can even know which network they are using. This way, you'll learn more about how users view your site.
Google Analytics Usage Guide: Mobile
This report lets you know if users have viewed your site on a tablet, desktop, or mobile device. For example, a user may have viewed your site on certain devices such as Apple iPad, Samsung SM-g950, or Samsung SM-T800.
You can use this information to determine whether a site is optimized for the specific devices users use and to make changes to the site accordingly. This data is very important because Google attaches importance to the mobile-first directory.
Google Analytics Usage Guide: Special
This area of ​​Google Analytics allows you to better define and compare user segments. For example, you can compare the bounce rate of mobile users with purchasers.
Based on similar reports, you can see how much of your organic traffic is new users. You have the opportunity to sort the data by custom variables and user-defined details.
In line with this data, you can have the opportunity to view highly detailed and customizable information about the way your target audience interacts with your site.
Google Analytics Usage Guide: Comparison
This section allows you to compare your data with data collected from others in your industry. You can compare your own data with the rest of your industry by subcategories like channels, location, and devices. These data are extremely important for finding missed opportunities.
Google Analytics Usage Guide: User Flow
What are people doing after they come to your site? This report provides a visual representation of how users are moving on your site and can be sorted by user type.
For example, you can see where users in New York started reviewing your site and where they left in the buyer cycle. With this detailed data, you can make various different adjustments to the purchasing cycle.
Google Analytics Usage Guide: Acquisition
The acquisition report provides detailed data on how your target audience found your site, how they got there, what they did, and whether they completed a specific action, such as filling out a form.
All Traffic
The All Traffic section shows you which sites are sending you the most traffic. In addition, bounce rate, number of pages per visit, goal completion, etc. You can view data about actions taken by users, including
There are sub-categories like Data, Channels, and Source / Medium. When you start to research the Source / Medium section, you can see how much traffic you have received from Google Analytics visual search. In addition, you can find out which keywords are more valuable by comparing them with Google Ads.
Google Ads
If you're investing in Google Ads, this data is crucial to understanding how you are performing. First, link your Google Ads and Google Analytics accounts. You will then have the opportunity to view the following relevant data:
Campaigns
Keywords
Search Queries
Time of the Day
Final URLs
Search Console
If you want to understand how your site is performing in organic search, this report will be the most important powerhouse to check out. First, you will need to establish a link between Google Search Console and Google Analytics.
After completing the connection, you will have access to a ton of data. You will be able to sort by subcategories such as Landing Pages, Countries, Devices and Queries. You may want to consider using all of this data to prioritize your business.
For example, you can find copies of content that rank well but have low clickthrough rate. With a few tweaks, this content can drive a ton of traffic. If you know how to use the data, it will be possible to get extra efficiency from each data you will obtain.
Google Analytics Usage Guide: Social
The social tab shows you how people interact with your content on social media. You should remember that you will have a chance to sort all the data by:
Network Redirects
Landing Pages
Conversions
Additions
User Flow
Consider using this information to determine the platforms your target audience is already interacting with with your content, measuring how social media affects site behavior, and more.
Campaigns
The Campaigns report shows how paid campaigns are performing and how they compare to other initiatives. If you are preparing paid campaigns, this report is an important place you should definitely take a look at. You can review the data according to the following sort criteria:
All Campaigns
Paid Keywords
Organic Keywords
Cost analysis
If you upload your cost data, you will have the chance to compare even the metrics of non-Google campaigns.
Behaviour
Behavior reports, using site search, content viewed, how fast pages load, etc. provides data about the actions users take on your site, including This information is very important to understand whether your site is performing as intended.
Behavior Flow
This report shows the path users took on your site. For example, you can review your in-depth content about preparing swimming pools for the winter, whether or not those who bought something later. To use this report, you must install and monitor the Events option.
Site Content
Site Content includes whether users are using a mobile device, whether they have made a purchase, whether the traffic is organic, etc. Provides comprehensive data, including This data helps you determine whether a particular piece of content is performing well.
For example, you can follow these steps to find the best performing titles:
Google Analytics> Behavior> Site Content> All Pages
Select the Page Title option as the primary dimension.
You now have the best performing page titles. If you want to learn more, you may want to check out other resources on how to find the best performing pages in Google Analytics.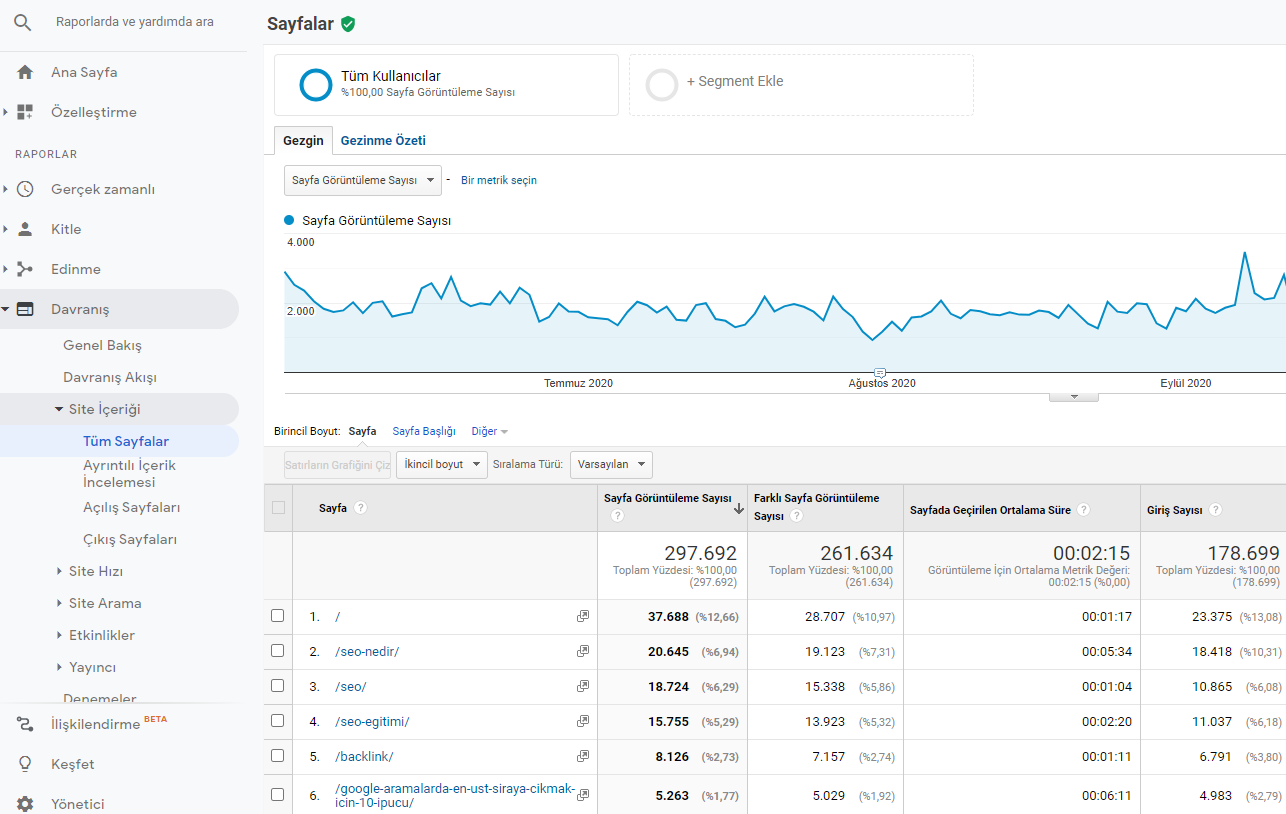 Google Analytics Usage Guide: Site Speed
The Site Speed ​​report shows how fast the content loads and how it can be sorted by traffic source. For example, it will show you if mobile customers are experiencing a higher load time.
To get the most out of this report, consider creating custom reports that provide more comprehensive and varied data showing which browsers are slowing down download times.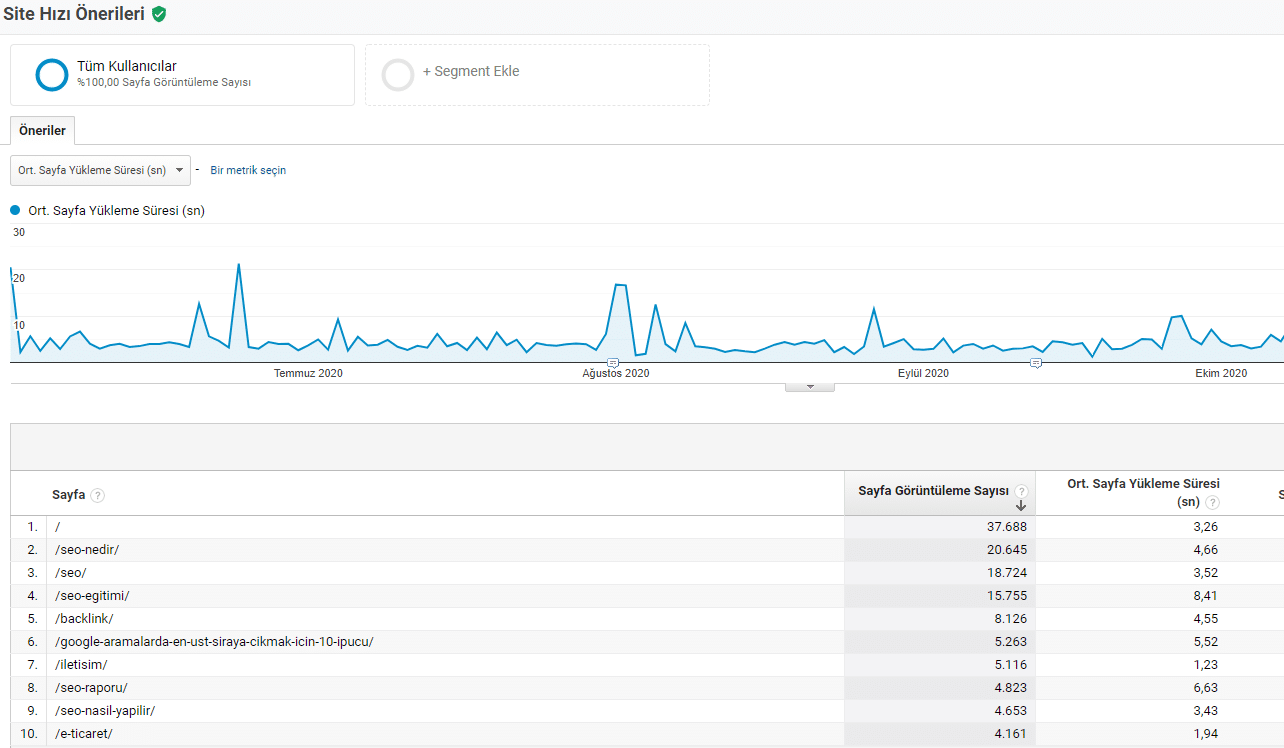 Google Analytics Usage Guide: Site Search
This report shows how site visitors use the search functionality on your site. In line with this information, you can find keywords you need to optimize or analyze content gaps.
This section is another area where special reports are useful. Thanks to the custom reports you will create, you can use the site search and you can follow the conversion rates of the users closely.
Google Analytics Usage Guide: Events
Google Analytics defines an event as "user interactions with content that can be viewed independently of web page or screen loading." Activities include downloading a PDF, viewing a video, form submissions, etc. takes place. You can list these reports as follows:
Most Important Events
Pages
Activity Supplement
Google Analytics Usage Guide: Publisher
The publisher report gives you access to data on how you monetize your site, including impressions and clicks. This report requires a link with AdSense or Ad Exchange account. You can then view information about Publisher Pages and Publisher Redirects.
Google Analytics Usage Guide: Trials
Experiments allow you to test variations of your site. For example, does your new welcome message convert better than before? You can measure this thanks to the trials report. This feature will be replaced by Google Optimize, which appears to be a more robust platform.
Conversions
This section of Google Analytics deals with completed actions. How many people have registered on your e-mail list? How many users have applied? How many people made phone calls? or how many people have contacted WhatsApp? The answers to these questions will provide very important information about the health of your business and the success of your SEO work.
Google Analytics Usage Guide: Goals
Goals are the actions you want to follow. This report gives detailed information about user actions based on the goals you create. You can set both micro and macro goals to understand which activities contribute to greater action.
For example, did reading a news article on your site contribute to buying a new computer chair? You must first create a goal, then try to view the data by:
Destination URLs
Reverse Target Path
Funnel Visualization
Goal Flow
Google Analytics Usage Guide: E-Commerce
E-Commerce report can be listed according to:
Product
Sales
Operation
Purchase Times
You should remember that you need to add the e-commerce code piece to your site to access this data.
Google Analytics Usage Guide: Multi Channel Funnels
There are many ways to communicate with your target audience. It can be difficult to say what actually works. This report explores how different channels get into the funnel.
First, you need to add the ecommerce snippet to your site. Then you get the chance to watch:
Supported Conversions
Best Ways to Conversion
Road Length
You will love to use the conversion report powered by the multi-channel funnels. It is very useful for e-commerce brands that track social media conversions.
Attribution
Attribution refers to the rules used to refer to points on the conversion path. For example, has a recipient read your email? Did he then download a proof sheet? Did he make a purchase after? The attribution model you choose will determine how the conversion credit will be split between the email and the white paper.
How To Set Up Google Analytics Admin Dashboard?
The few reports above require you to connect different platforms or add various snippet codes. Most customizations will depend on the type of business you run. However, adjusting these settings will be a positive contribution for most site owners.
1. Property Settings
First make sure you have this report enabled. Sign in to Google Analytics and then go to Admin> Property Settings. Then check the following one by one:
Enable Demographics and Interests Reports – ON
Use Enhanced Link Attribution – ON
Enable Users Metric in Reporting – ON
After setting them up this way , you should make sure that the links between Google Ads and Google Search Console and Google Analytics are established.
2. View Settings
View Settings is one of the simplest settings you should check first. You can access the settings of this section by following the path of Admin> View Settings. Then you should check the following:
E-Commerce Monitoring – ON
Site Search Tracking – ON
Check if the URL is correct.
Check the time zone, country or region.
Check the section on how currency is displayed.
Click on the "Abundant Filtering" option.
3.Add Filters
Filters help you get the most accurate data by filtering the spam traffic and traffic from your and your customer's IP addresses. That way, you won't waste time figuring out why you don't want to save conversions yourself.
Sign in to Google Analytics.
Go to Admin> View Settings> Filters> Add Filter.
Give the filter a name.
Make "Predefined" and "Exclude" of the Filter Type.
Enable the traffic from IP addresses option.
Then select the part equal to:
4. Goals
Site traffic is not the only data that matters. There is a lot to watch and goals help you do that. Goals tell Google what actions you think are most important to your business.
To set a goal, you should go to Admin> Create View> Goals> New Target. So you can create the goals your business needs.
5. Dashboard
One of the things that makes Google Analytics so powerful is its ability to customize. Dashboards provide a high-level view of the statistics and data that matter most to your business. They can be simple or very in depth depending on your needs.
6. Special Alerts
An alert sends you a notification if certain parameters are met in your account. For those who are not in Google Analytics every day, this is a critical step.
To begin with, it is recommended to set an alert when organic traffic decreases 20% on the same day and organic traffic increases 20% on the same day. This will alert you to major changes.
Sign in to Google Anaytics.
Go to Admin> Custom Alert> New Alert.
Now add a name and set the parameters for your alerts.
7. Google Analytics Checklist
The best way to understand how Google Analytics works is to take a deep dive and perform a good check. The 10-point checklist below can help you with this:
Are additional platforms such as Google Ads, Google Search Console connected?
Site search active?
Have you set alerts for any metric changes that require immediate action?
Have you added filters to block your own IP address and spam sites that are currently sending traffic to your site?
Have you enabled the Demographics and Interests reports?
Can people find what they need in the site search section?
What is your bounce rate?
Has traffic increased or decreased significantly in the past week?
For what key terms did you rank?
What is the most popular piece of content from your site?
If you are just starting out with Google Analytics, you may want to consider using a variety of different content to help you with this.
Google Analytics Usage Guide: Result
It is very, very important for an SEO professional to understand Google Analytics and try to get the most out of it. Google Analytics can help you understand not only what works but also why.
In some cases, you may believe a strategy is successful if you look in terms of incorrect data. That's why it's so valuable to examine the right data in Google Analytics. You can obtain all data free of charge. You just have to learn how to use them.